JOIN THE HIGHEST LEVEL COMMUNITY IN THE MUSIC BUSINESS LEARN HOW TO MONETIZE YOUR CRAFT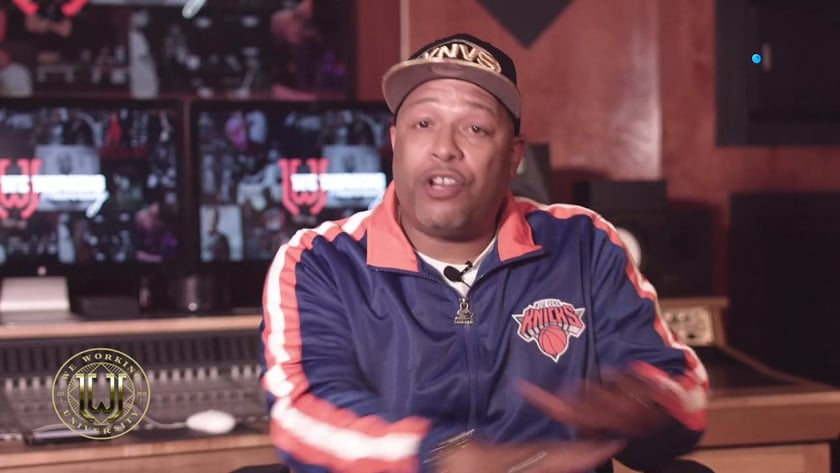 GET DIRECT ACCESS TO MUSIC INDUSTRY LEADERS
→ Bi-Weekly LIVE music business mentorship zoom calls
→ Understand the music business and how to monetize your craft
→ A Network of Industry Leaders Ready To Help You Grow And Succeed In The Music Industry
→ Exclusive discounts to live events and premium content
→ New Exclusive Mentorship Modules Dropped Monthly in your personal studio library And Discussed on The Bi-Weekly Music Mentorship zoom `Call.
→ Free access to the monthly Music Business Weekends Held by Steve Lobel Who Brings In Industry Leaders Sharing Their Secrets To Success Helping Guide You To A Successful Music Career. A $100 value FREE for students.
→ Access To Join We Working University's Private Facebook Group And Connect With Industry Leaders And Other Likeminded Individuals on the same mission.
→ Invites To Private Live We Working Events coming soon
→ Bonus content from our Inside The Music Biz premium course
MEET JUST SOME OF YOUR WE WORKING UNIVERSITY INSTRUCTORS
Rapper - Leader of Cypress Hill
Rapper, Producer & Entrepeneur.
Grammy Winning Songwriter
Artist - Toured With Billie Eilish
Entrepreneur - Early Investor In Facebook & Twitter
What We Working University is not
We Working University is NOT a get rich quick scheme.

Sure there are millions to be made in the music industry. But our primary goal is to educate you on the inner workings of the music industry. Giving you a competitive edge against the competition, teaching you how to navigate the industry and monetize your craft. Bringing you to the highest return on your investment.
We Working University is NOT for you if you think you already know it all. We have no room for no it all's.

This is your chance to make an investment in yourself and learn directly from Grammy winning artists and industry titans. No matter how much you know about the music industry we guarantee you will gain priceless knowledge and connections that could not be acquire anywhere else besides We Working University.
We Working University is NOT just for the upcoming artist.

This is a platform for all aspects of the music business. We cover topics such as song writing, Management, Entertainment Law, Publishing, Cinema & Photography, Tour Management, Mixing and Mastering, Longevity in the music business and many more topics.
What We Working University is
We Working University IS direct access to legendary artists and industry leaders. Including live trainings.

It doesn't matter where your music career stands. For the first time in music history, you are able to get questions answered directly from industry leaders. Personally, asking the questions you need answered on live zoom trainings. We go live Bi-Weekly and drop new instructors every month! All live trainings are recorded and placed in your personal studio library.
We Working University IS a community of likeminded action takers learning and growing together.

 Today when you join the Monthly Music Mentorship students you are joining an elite family that truly looks out for each other. We believe that everyone deserves equal treatment no matter where you are in your journey. You also get access to our private Facebook group where u can ask any questions you have.
We Working University is IS the best way to hyper drive your music career.

Most of the successful people in the music industry had mentors and guidance in order to bring them to the next level. Here we offer exclusive knowledge you can not get anywhere else. Our instructors share tips and tricks that helped get them to the next level of success. Don't be confused the only reason these tips and tricks are being shared is because of the relationships STEVE LOBEL has gained over decades in the music industry. THIS KNOWLEDGE CAN NOT BE FOUND ANYWHERE ELESE!!
From seasoned veterans to some of the hottest independent artists, we've scouted over 70 instructors to help you at every level
INSIDE THE MUSIC BUSINESS
Our inside the music business course includes topics taught by Fat Joe, Gary V, Krayzie Bone, Berner B, B Real and many more legends!
Music Business Monthly Mentorship
Understand the Music Business, with our monthly subscription and gain an insight into the music industry.
Bi-Weekly Music Mentorship Zoom Calls

A Network Of Industry Leaders

Invites To Private Live We Working Events

Exclusive Mentorship Modules